ABOUT THE PROGRAM


_______
Experts agree that Executive Presence is far more than leadership abilities.
Yes, the ability to lead is a component. Communication is also a significant skill set and the facility for powerful, interpersonal engagement is pivotal. Executive Presence is clearly multi-faceted.
The New York-based think tank, Center for Talent Innovation (CTI), established a task force to investigate Executive Presence. Its focus was to provide insights into how organizations could leverage their talent through Executive Presence. The 75 global corporations and organizations involved in the task force operate in 190 countries around the world, comprising four million employees.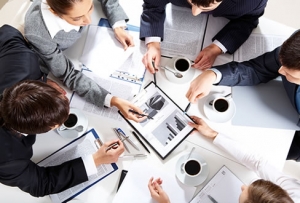 The CTI task force's report, published in 2012, captures the essence of why Executive Presence is so critical: "Performance, hard work, and sponsors get top talent recognized and promoted. But 'leadership potential' isn't enough to lever men and women into the executive suite. Leadership roles are given to those who also act the part."
There is no question that ability, talent and skills count BUT Executive Presence plays a key role in assuring people achieve their full potential. The goal of EP is not a singular, stellar move up the career ladder but continuous, upward mobility.
As the CTI report states: "Executive Presence alone won't get you promoted … but its absence will impede your progress. "The extraordinary thing about EP is its accessibility. In fact, it's attainable to everyone with the will to succeed. Executive Presence is neither exclusive nor elusive.™
Our practical 2-Day Workshop teaches transferable skills that communicate the executive presence required to achieve upward mobility. Each participant practices in a variety of situations and receives feedback from both peers and instructors.
Case studies are customized to participants' specific work environments. Whether the focus is customer service, supervision, team building or leadership, strong interpersonal communication skills form the infrastructure of success.
Participants learn the core skills required to enhance their ability to communicate with confidence in everyday business situations.
Executive Presence plays an essential role in today's corporate world:
Empowers employees with the credibility to secure business goals.
Encourages confidence — the "deal-maker" that move business negotiations along, seamlessly.
Ensures a competitive edge for the brand.
Elevates the global stature of the organization as a progressive innovator.
Escalates career advancement for the individual.
10 OBJECTIVES


_______
Understand the fundamentals of Executive Presence.
Recognize the 4 critical elements of First Impressions.
Use Body Language to read between the lines.
Enhance Interpersonal Communication for effective leadership.
Create an impactful Virtual Image.
Understand the difference between corporate branding and personal branding.
Understand the impact of actions and behaviors on executive relationships to enhance personal political savvy.
Discover personal leadership and negotiating styles.
Deliver power presentations.
Project a professional image through appearance.
10 MOTIVATING FACTORS


_______
Become more influential, persuasive and inspiring
Connect better and faster
Elevate personal status
Communicate more effectively
Enhance leadership competencies
Network with confidence anywhere and with anyone
Get to the next level
Achieve goals more quickly
Manage and maintain an exemplary reputation
Encourage people's trust and respect