MODULE 4

The ability and confidence to dine anywhere with anyone is of particular importance in business. Relationships are built during meals and although intended to be a more relaxed way to meet, many people consider business meals stressful.
At every business meal, the host and the guest each have their own set of responsibilities. Our dining tutorial takes place over the luncheon period and focuses on dining with C-suite, senior management and clients. The emphasis is on conversation, interaction and how to maintain presence throughout the meal.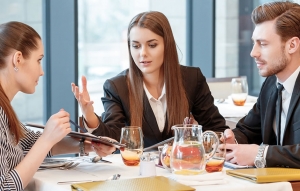 We also cover the following topics:
Who sits where.
Showing the extent of your hospitality.
When to start talking business.
How to handle bad or slow service.
Guest and host duties.
Styles of eating (i.e. North American and Continental).
International dining awareness.
Handling the knife and fork.